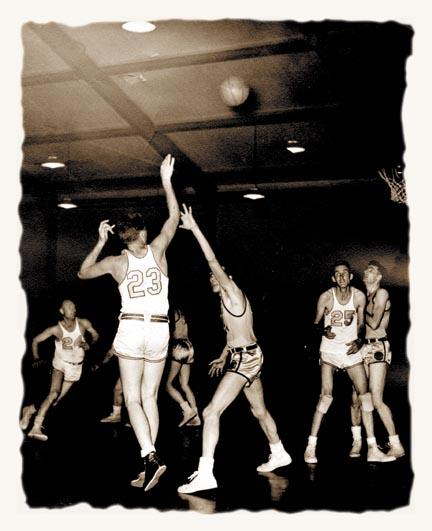 The Santa Maria Golden Dukes were a community-based minor league team that competed in the AUU League and THE NIBL (predocessor of the NBA) in the 1940s and 1950s. The team was founded by Duke Webster, a Santa Maria native who ran a service station in the city. The Santa Maria Dukes were the only community-sponsored team in the league. Webster sponsored the team, before they joined the NIBL, and he was the Duke's first head coach.
The population of Santa Maria back then was nearly 20,000; it was one of the smallest cities in the state of California. The whole city of Santa Maria would attend every home game – the Dukes used to play their home games in the old Armory Building, which is now part of the Fairpark in Santa Maria. The Dukes were champions of the Santa Maria City Basketball League in 1948. After that championship title, the team soon grew popularity throughout the NIBL. 
There are several notable players who played for the Santa Maria Dukes and went on to have amazing careers as basketball professionals. One of the most notable players is Santa Maria hometown hero and NBA legend, Bill Bertka. 
Notable Players:
Bill Bertka – Los Angeles Lakers Assistant Coach
Bob McCutcheon – Legendary Hancock College Men's Basketball Coach
Kenny Milo
Joe White
William Madison Stratford
Quentin Sims
Gene Snyder
Paul Howard
Omer Meeker
Roger Brown
Dale Hyatt
Harvey Huber
Sherman Nearman
Gus Rischer